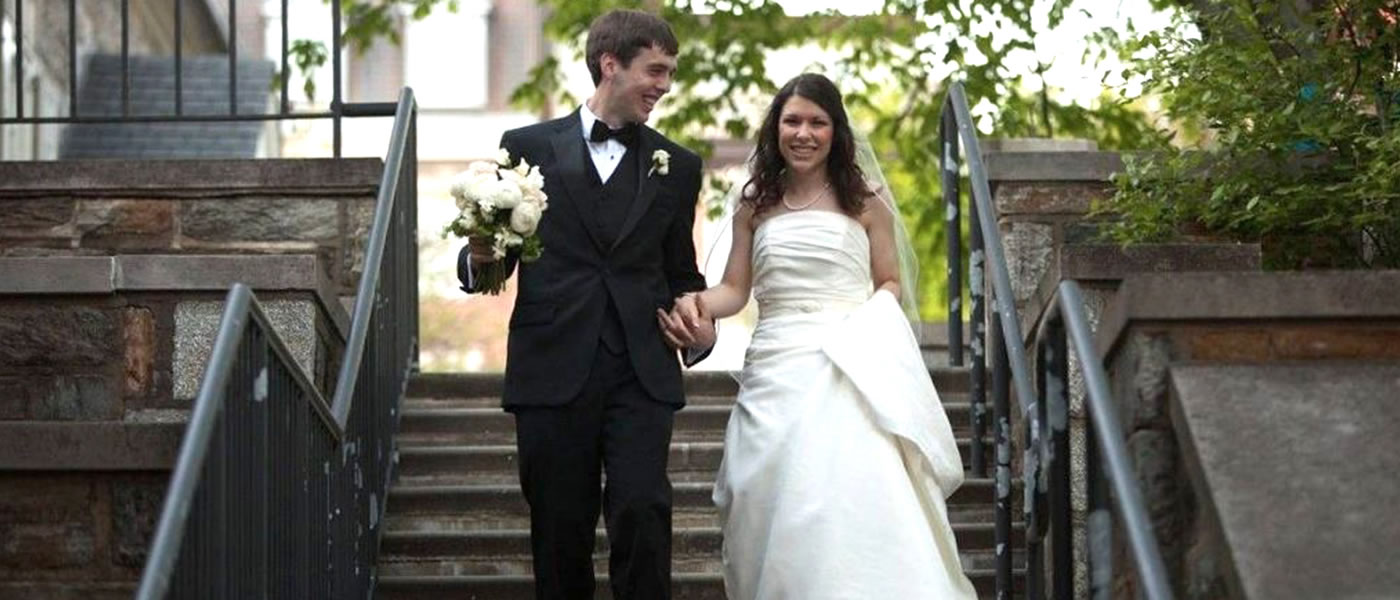 We are open to all couples! You'll immediately feel welcome and at ease in Friends Meeting of Washington's simple, elegant spaces, open to couples of all genders and orientations. Because Quakerism does not rely on the religious symbolism often present in other faith traditions, our campus is ideal for marriage ceremonies for couples of mixed faiths or for those with undefined religious leanings.
Our community has celebrated same sex weddings and commitment ceremonies for decades. We welcome couples of all genders and orientations to celebrate their weddings in our spaces.
See more photos of past weddings on our Facebook page.
How will we make your special day memorable?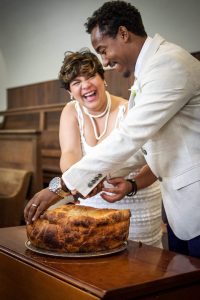 A choice of settings for your ceremony, both indoor and outdoor:
For larger weddings, our Meeting Room—the spiritual heart of our campus—seats up to 300 people. Its simple elegance includes dark wood pews, luminous gray walls, high ceilings, and expansive windows that welcome in the natural light. You may choose to offer refreshments on the east terrace prior to your ceremony.
For smaller weddings, our Quaker House Living Room offers a more intimate space for your ceremony, seating up to 40 people. It is a simple yet elegant space in a historic home, complete with vintage style furniture and a working fireplace (which you may use for an additional cleaning cost).
Beautiful gardens and terraces for an outdoor ceremony—you may rent a tent in case of rain.
An easy transition from the ceremony to your reception:
Following a ceremony in the Quaker House Living Room, your reception may remain in that space–and spill out into the nearby Bridge Room, Carriage House Room, and the surrounding corridor.
If you are married in the Meeting Room, our Assembly Room, with its open floor plan, offers a perfect space for a seated dinner and reception of up to 96 people. The east gardens and terrace is a perfect venue for a wine and hors d'oeuvres reception following the ceremony and before dinner.

For additional space, your dinner and celebration to follow may also take place in our west gardens and terraces, for which you may rent a tent.

Champagne, wine, and beer may be served (no spirits or liquors) with prior approval.
Perfect spaces for photography to memorialize your day:​
The front garden's stone staircases and courtyards are ideal for wedding photos.
The nearby Spanish Steps offer opportunities for additional photography
Historic — but newly renovated — venue with simple yet elegant spaces
The ability to hold your ceremony and reception in the same venue
Centrally located in Dupont Circle–close to hotels and restaurants
A variety of setup options based on the size of your wedding with standard tables / chairs as well as any audiovisual equipment needs (speakers, microphones, projector, screen) included in the cost
Perfect for couples of mixed faiths or undefined religious leanings due to Quakerism's lack of religious symbolism in our spaces
The ability to select the officiant and create your ceremony as you choose
A selection of preferred vendors and caterers familiar with our spaces.
Almost all spaces are fully accessible to individuals with disabilities or accessibility challenges
Environmentally sustainable venue with solar panels, a green roof, and other features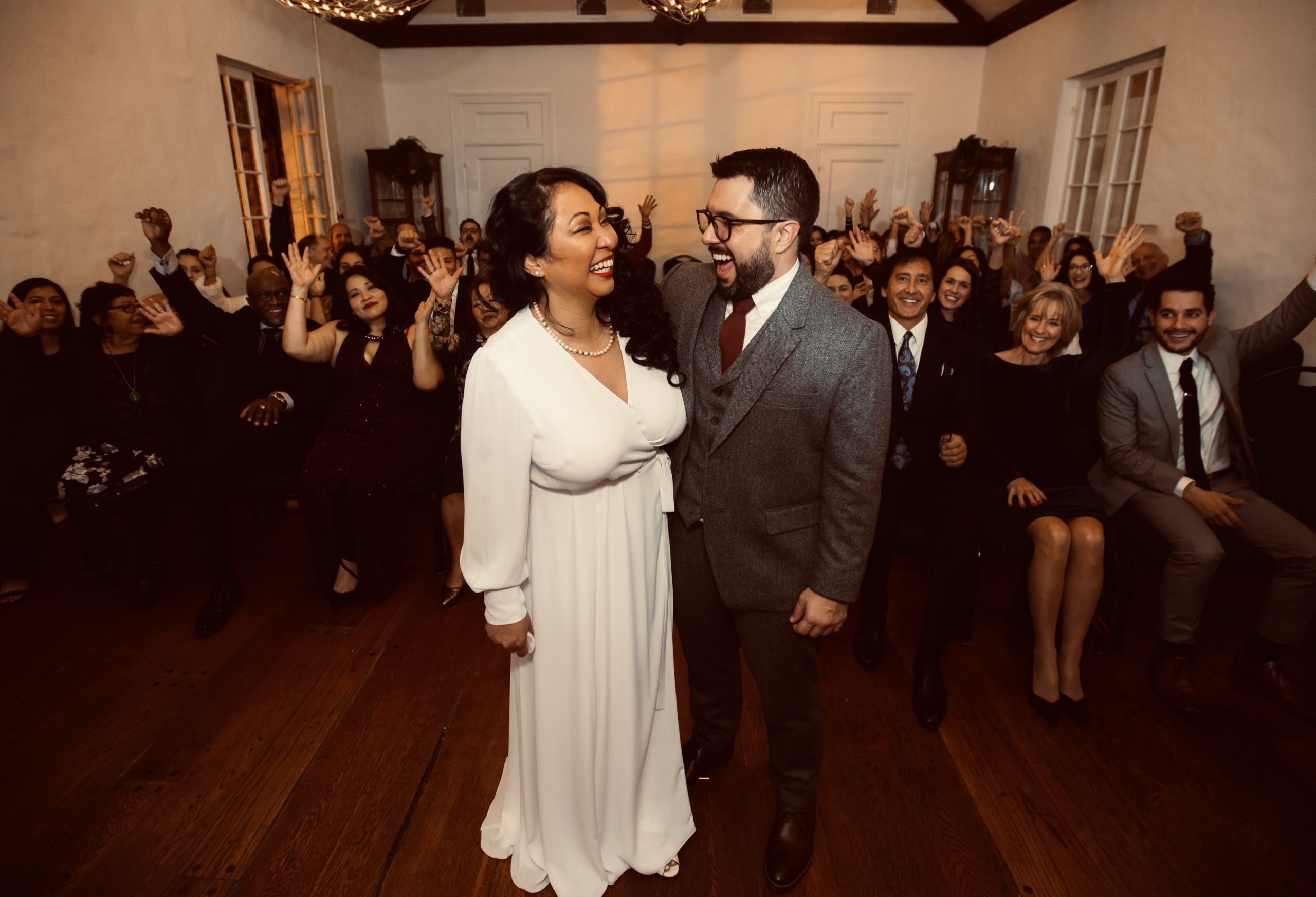 "My husband and I were married at the Friends Meeting of Washington in July 2019 and we could not have been more excited and or happier with the location, facility and Friends community. It was very important to us to be married at the Friends Meeting House because of the rich history in Washington DC and in the United States. We incorporated some of its history into our ceremony.
Not only was the ceremony beautiful and uplifting in the Meeting House, there were many incredible backdrops for pictures, including lovely gardens and flowers, unique architecture and the little known Spanish Steps a half a block away. The Meeting House has many options for set up. We chose a very simple plan with floral arrangements behind the officiant and on the window sills. The sun coming through the big windows made the beautiful wood and the room very inviting and everyone entered with a smile."
~ P and M